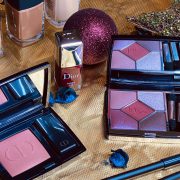 I chose this Palette 5 Coleurs couture Dior 879 with these wonderful colors .
The eyes are so emphasized with this bright combination.
Creamy, long-lasting eyeshadow. High quality texture and a precise finish !
While Rouge Blush 219 Montaigne is a blush that gives the cheeks an intense and ultra pigmented color and at the same time ensures a long lasting effect.
For a glamorous Christmas look to remember !
Step  1 Prep your eye then, using a medium brush, apply a purple pigment under the eye. Note that it's a few millimetres wide so that when you apply the darker shade it has something to blend out to.
Step 2  Apply the same pigment around the entire eye, carrying it up to the brow.
Step 3 Using a thin brush, apply a light purple to the upper lid, concentrating along the lash line. Note the shape is straight across the lid, not rounded. Apply this under the eye as well, intensifying it near the outer edge.
Step 4 Finish by applying a the lash line. Then add mascara to the top and bottom lashes.
Werbung ohne Auftrag
@valentinasico.de